Public Lecture | Translation: Challenges and Perspectives – Desafios e Perspetivas da Tradução
event
Public Lecture | Translation: Challenges and Perspectives - Desafios e Perspetivas da Tradução
The Department of Language and Culture of the Faculty of Arts and Humanities will hold a Public Lecture on 30 September 2022.
---
---
ABOUT THE TALK:
Translation: Challenges and Perspectives
The International Translation Day is celebrated every year on September 30th and aims to highlight the work of translation professionals. It is celebrated on the day of the death of Saint Jerome, the biblical translator considered the patron saint of translators, whose contribution to the development of translation as a mean of bringing people closer together was of the utmost importance.
To celebrate this date, the University of Saint Joseph of Macau decided to invite Tiago Nabais, translator of Chinese writers such as Yu Hua and Yan Lianke, to tell us about his experience as a translator and the reasons that led him to take up this career, a conversation in which the academic community is invited to participate.
RESUMO:
Desafios e Perspetivas da Tradução
O Dia Internacional da Tradução celebra-se anualmente a 30 de Setembro e procura enaltecer o trabalho dos profissionais da tradução de línguas. É comemorado no dia do falecimento de São Jerónimo, o tradutor bíblico considerado o santo padroeiro dos tradutores, cujo contributo para o desenvolvimento da tradução como forma de aproximar os povos foi vital.
Para celebrar esta data, a Universidade de São José de Macau decidiu convidar Tiago Nabais, tradutor de escritores chineses como Yu Hua e Yan Lianke, para nos falar da sua experiência como tradutor e os motivos que o levaram a enveredar por esta carreira, numa conversa em que a comunidade académica está convidada a participar.
---
ABOUT THE SPEAKER:
Tiago Nabais is a PhD student at CES/U. Coimbra, where he does his research focused on issues related to memory and trauma in contemporary Chinese literature. He lived in different cities of China for ten years and translated into Portuguese several works by Chinese writers Yu Hua and Yan Lianke, all published by Relógio D'Água.
SOBRE O ORADOR:
Tiago Nabais é doutorando no CES/U. Coimbra, onde investiga questões ligadas à memória e ao trauma na literatura chinesa contemporânea. Viveu dez anos em diferentes cidades da China e traduziu para português várias obras dos escritores chineses Yu Hua e Yan Lianke, todas publicadas pela editora Relógio D'Água.
---
Details:
Date: Friday, 30 September 2022
Time: 7:00 p.m. – 8:30 p.m [GMT+8, Macau Time]
Location: Classroom 105, USJ Ilha Verde Campus
Organised by: Department of Language and Culture, Faculty of Arts and Humanities
Moderated by: Prof. Nuno Rocha
---
Join Zoom Meeting
https://us06web.zoom.us/j/85228278045?pwd=MUl5VTZSdTRsMnk4dVBVbDdpTEE5UT09
Meeting ID: 852 2827 8045
Password: 249962
---
*Free event, open to the general public
*Sessions will be conducted in Portuguese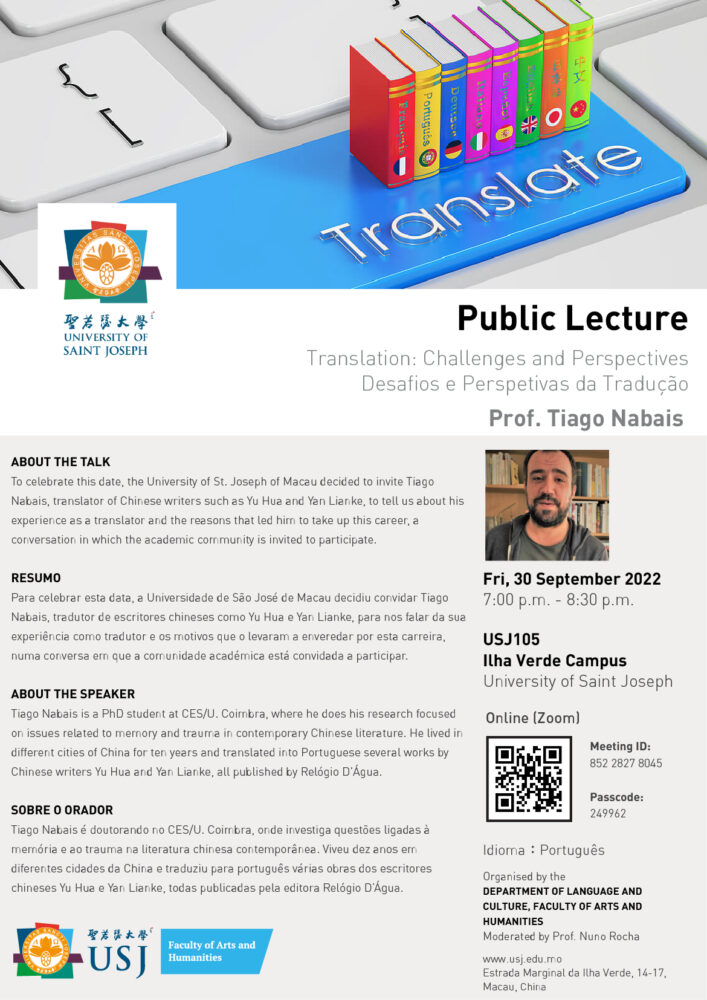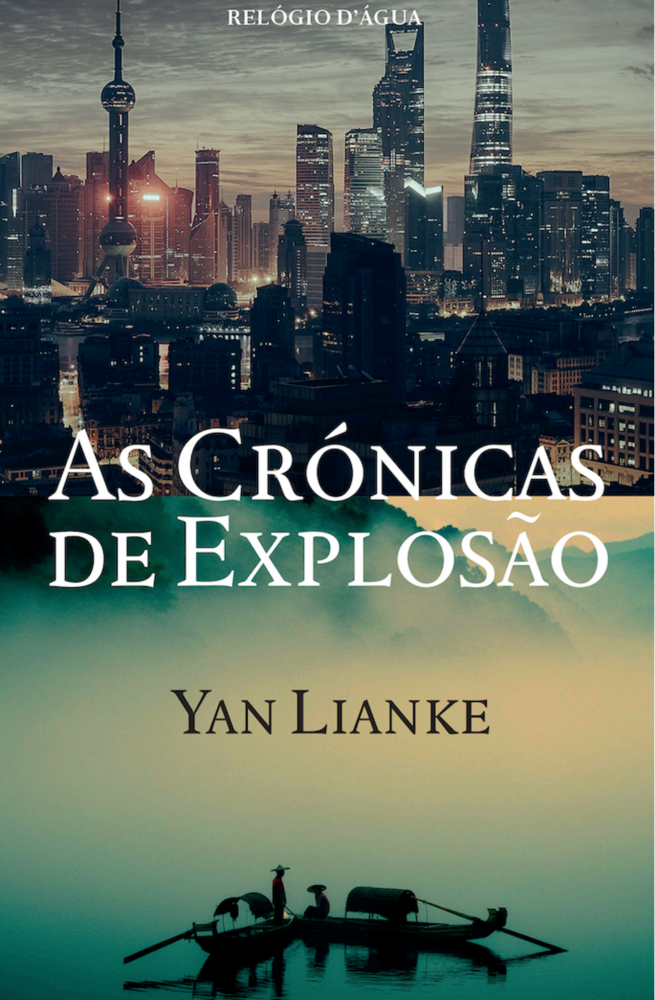 ---