Psychoeducational Talk: Mental Wellbeing – Better Sleep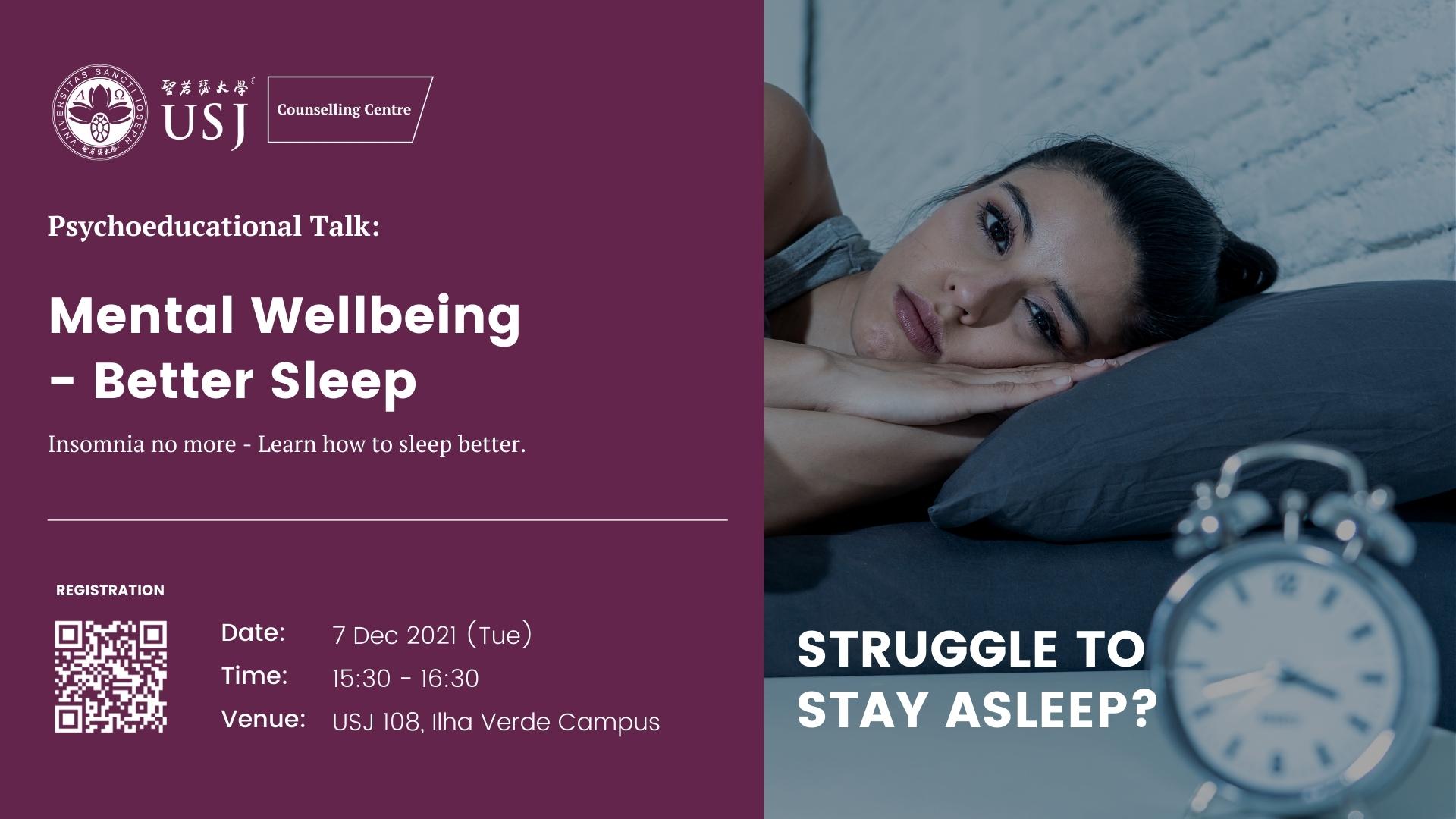 event
Psychoeducational Talk: Mental Wellbeing – Better Sleep
The USJ Counselling Centre is hosting a Psychoeducational Talk about Insomnia titled "Mental Wellbeing – Better Sleep ", on 7 December, 2021.
---
---
About the talk:
Sleeping disturbances and deprivation are common struggles experienced by college students worldwide. There was a prevalence rate of up to 20.3% and 23.6% of Chinese university students were dissatisfied with sleep quality and suffered from insomnia symptoms respectively (Li et al., 2017). Students who suffered from sleep disorders were found to have a higher risk to perform poorly in academic (Gaultney, 2010).
This talk aims to debunk common myths about sleep, understand different types and causes of sleep disturbance, and learn methods that could help to improve our sleep quality. There will be screening tools and experiential activities which hope to assist participants to practice conductive sleep.
About the USJ Counselling Centre:
The USJ Counselling Centre strives to provide educational-preventive programmes which aim to address the developmental needs and maximise the potentials of our students.
These programmes are designed to help students acquire new knowledge, skills and behaviours, realistic self-appraisal, foster responsible personal choices, enhance the ability to make meaningful and supportive relationships with others, thus increase the capacity to engage in a satisfying and healthy style of living.
---
Details:
Date: Tuesday, 7 December 2021
Time: 15:30 – 16:30
Location: Classroom 108, USJ Ilha Verde Campus
Organised by: USJ Counselling Centre
*This Talk will be conducted in English (Supplemented with Cantonese)
**This Talk is free to attend and members of the public are very welcome to join
---
References:
Li, L., Wang, Y. Y., Wang, S. B., Li, L., Lu, L., Ng, C. H., Ungvari, G. S., Chiu, H., Hou, C. L., Jia, F. J., & Xiang, Y. T. (2017). Sleep Duration and Sleep Patterns in Chinese University Students: A Comprehensive Meta-Analysis.
Journal of clinical sleep medicine : JCSM : official publication of the American Academy of Sleep Medicine
,
13
(10), 1153–1162.
https://doi.org/10.5664/jcsm.6760
Gaultney JF. (2010). The prevalence of sleep disorders in college students: impact on academic performance. J Am Coll Health. 2010;59(2):91-7. doi: 10.1080/07448481.2010.483708. PMID: 20864434.
Schlarb, A. A., Friedrich, A., & Claßen, M. (2017). Sleep problems in university students – an intervention.
Neuropsychiatric disease and treatment
,
13
, 1989–2001.
https://doi.org/10.2147/NDT.S142067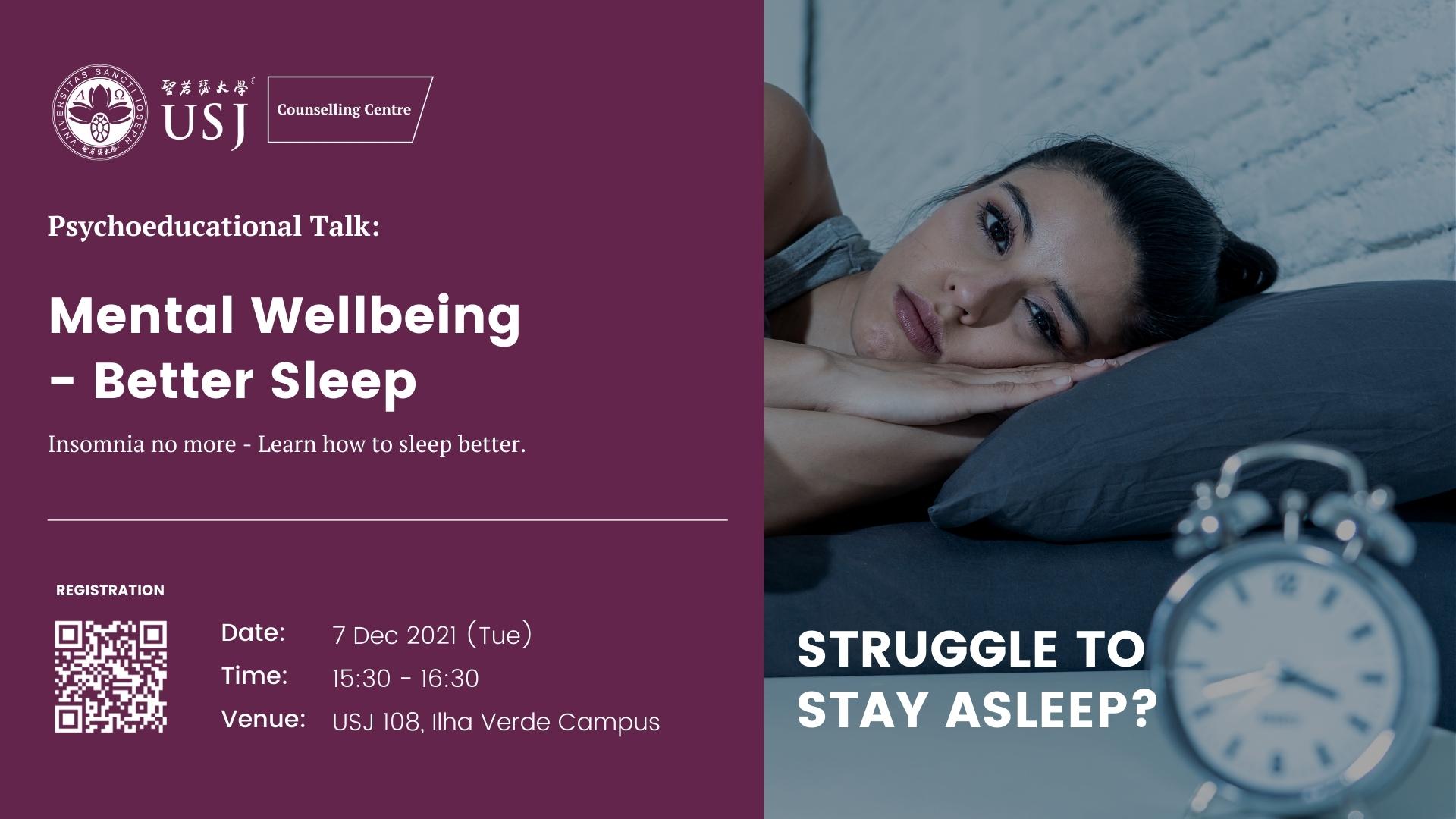 ---