Sustainable Business Series | The Business of Health and Well-being Round Table – Rethinking to Promote a Better Quality of Health and Well-being in the Workplace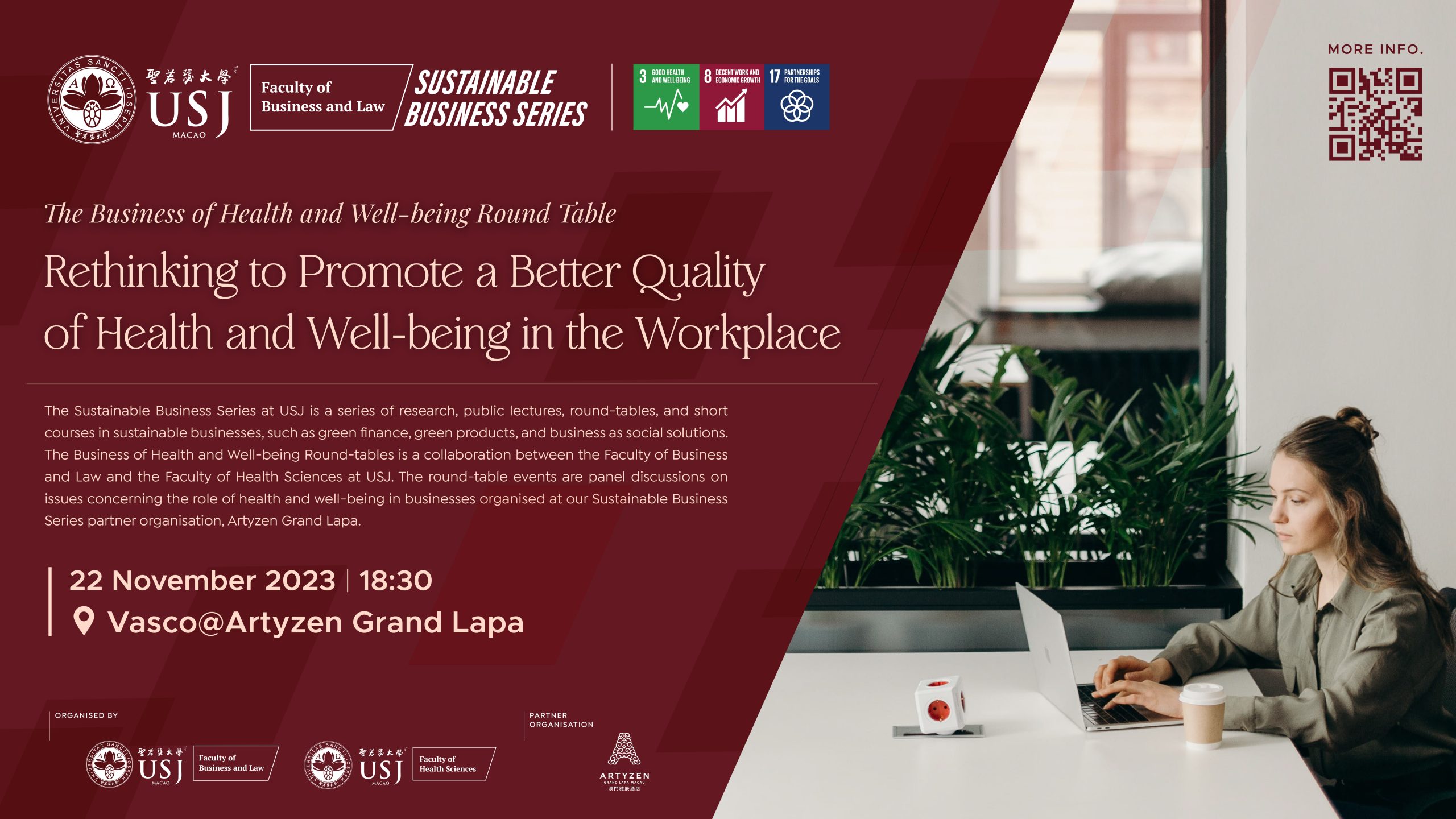 event
Sustainable Business Series | The Business of Health and Well-being Round Table - Rethinking to Promote a Better Quality of Health and Well-being in the Workplace
This Sustainable Business Series Roundtable will be held on 22 November – at 18:30, in Vasco at Artyzen Grand Lapa.
---
---
About the Talk:
The Sustainable Business Series at University of Saint Joseph (USJ) is a series of research, public lectures, round-tables, and short courses in sustainable businesses, such as green finance, green products, and business as social solutions. The Business of Health and Well-being Round-tables is a collaboration between the Faculty of Business and Law (FBL) and the Faculty of Health Sciences (FHS) at USJ. The round-table events are panel discussions on issues concerning the role of health and well-being in businesses organised at our Sustainable Business Series partner organisation, Artyzen Grand Lapa.
This round-table is an initiative associated with the United Nations' Sustainable Development Goal (SDG) 3 "Ensure healthy lives and promote well-being for all at all ages", SDG 8 "Promote sustained, inclusive and sustainable economic growth, full and productive employment and decent work for all", and SDG 17 "Strengthen the means of implementation and revitalize the Global Partnership for Sustainable Development".
Details:
Date: Wednesday, 22 November 2023
Time: Starts at 6:30 p.m.
Location: Vasco – Bar and Lounge 乘風廊酒吧, Artyzen Grand Lapa
Organised by: USJ's Faculty of Business and Law and Faculty of Health Sciences
Partner Organisation: Artyzen Grand Lapa Macau 澳門雅辰酒店
Add to my Google Calendar
*Free event, open to the general public
*Session will be conducted in English
---
Programme:
18:30 – Welcoming speech by USJ Dean of Faculty of Health Science, Prof. Jacky Ho
18:35 – Opening speech by USJ Dean Representative of Faculty of Business and Law, Prof. Ansoumane Douty DIAKITÉ
18:40 – Introduction of panel members and discussion by Moderator
18:45 – Sharing by Prof. Angus Kuok, Associate Professor of Psychology Coordinator of Master of Organisational Psychology Programme – USJ
18:55 – Sharing by Ms. Emily Chan, Senior Manager of Talent Management and Leadership Development Human Resources & Administration – Galaxy Entertainment (Group)
19:05 – Sharing by Ms. Jiji Tu, Executive Director of MSS Recruitment, Winner of 2023 Deignan Award for Responsible Enterprises (DARE), Macau Group
19:15 – Moderated Q&A
19:30 – End of event
---
Speakers:
Angus Kuok

Associate Professor of Psychology
Coordinator of Master of Organisational Psychology Programme
University of Saint Joseph
Emily Chan

Senior Manager of Talent Management and Leadership Development
Human Resources & Administration
Galaxy Entertainment (Group)
Jiji Tu

Executive Director
MSS Recruitment
Winner of 2023 Deignan
Award for Responsible Enterprises (DARE), Macau Group
Moderator:
Ansoumane Douty DIAKITÉ

Associate Professor of Law and Public Policy
Head of Department of Law and Public Policy
University of Saint Joseph
---