Doctoral Talks on Campus | Symbolic and Economic Value of Creative and Cultural Industries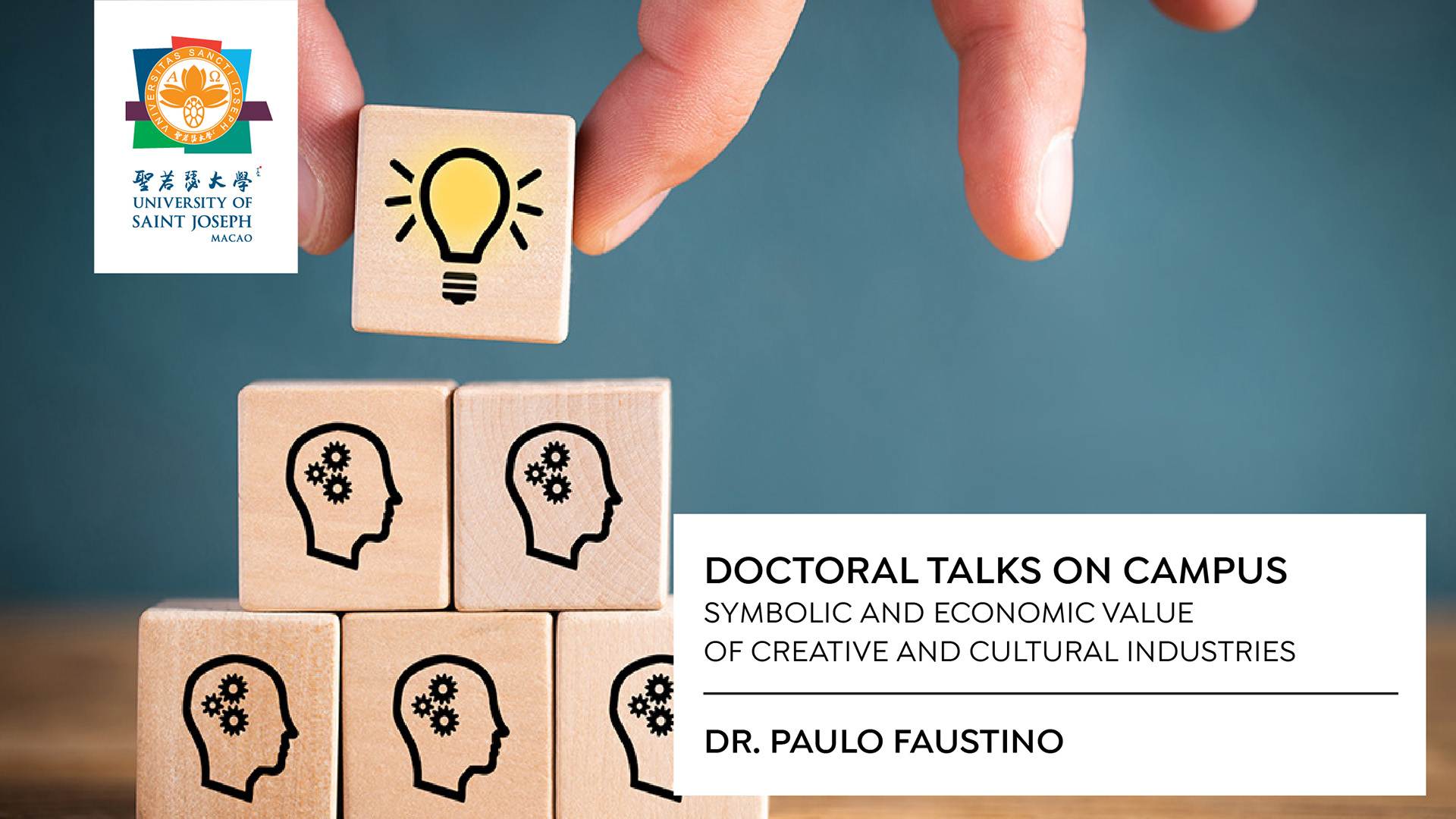 event
Doctoral Talks on Campus | Symbolic and Economic Value of Creative and Cultural Industries
Doctoral Talks on Campus: "Symbolic and Economic Value of Creative and Cultural Industries" will take place on May 30 at Don Bosco Auditorium.
---
---
ABOUT DOCTORAL TALKS ON CAMPUS:
Fostering transdisciplinary perspectives in thought, research and development in the doctoral and post-doctoral programmes of the University of Saint Joseph in Macao.
---
ABOUT THE TALK:
The foundations that gave rise to the concept of the creative industry in the context of societal challenges, business models, and entrepreneurial dynamics in creative, artistic, and cultural activities will be presented.
The seminar will highlight the economic and symbolic value of cultural and creative products and goods, including their relationship with regions and nations' political agenda and competitiveness factors.
ABOUT THE SPEAKER:
João Paulo de Jesus Faustino has Post-Doctoral research at Faculty of Social Sciences and Humanities – Nova University (Lisbon) and is Senior Fellow at Tele-Information of Columbia University (NY). He is Director and co-founder of the master's in communication and Management of Creative Industries (started in the academic year 2017/2018) and professor at Journalism and Sciences Communication Department at Porto University (in these Faculties he teaches: Cultural Marketing, Media and Creative Industries Marketing, Management and Business Models in Creative Industries); he is also co-diretor, with Terry Flew, of the JOURNAL OF CREATIVE INDUSTRIES AND CULTURAL STUDIES – JOCIS. He is Non Executive President of Formalpress/Media XXI – Publishing & Consulting Company.
Paulo Faustino has taken part in several international conferences and courses as a teacher, speaker, chairman, moderator, and integrated round tables in the following countries: Angola, Mozambique, Canada, EUA, Brazil, China, Switzerland, Germany, Serbia, Japan, United Kingdom, Russia, Hun ary, Cape Verde, Guinea Bissau, Spain, France, Greece, Poland, South Africa, Australia and Cypros. Faustino is one of the most dynamic international researchers and professors in the field of Media Economics and Management. His research focused on Media and Creative Industries Studies, namely: Ownership Concentration, Public Policies, Economics, Entrepreneurships, Management and Marketing in Creative Industries end Media Business.
---
DETAILS:
Date: Tuesday, 30 May 2023
Time: 7 p.m. – 10 p.m.
Location: Don Bosco Auditorium, USJ Ilha Verde Campus
Language: English
General Coordinador: Prof. Adérito Fernandes-Marcos
Moderated by: Prof. José Manuel da Silva Simões
---
Add to my Google Calendar
*Free event, open to the general public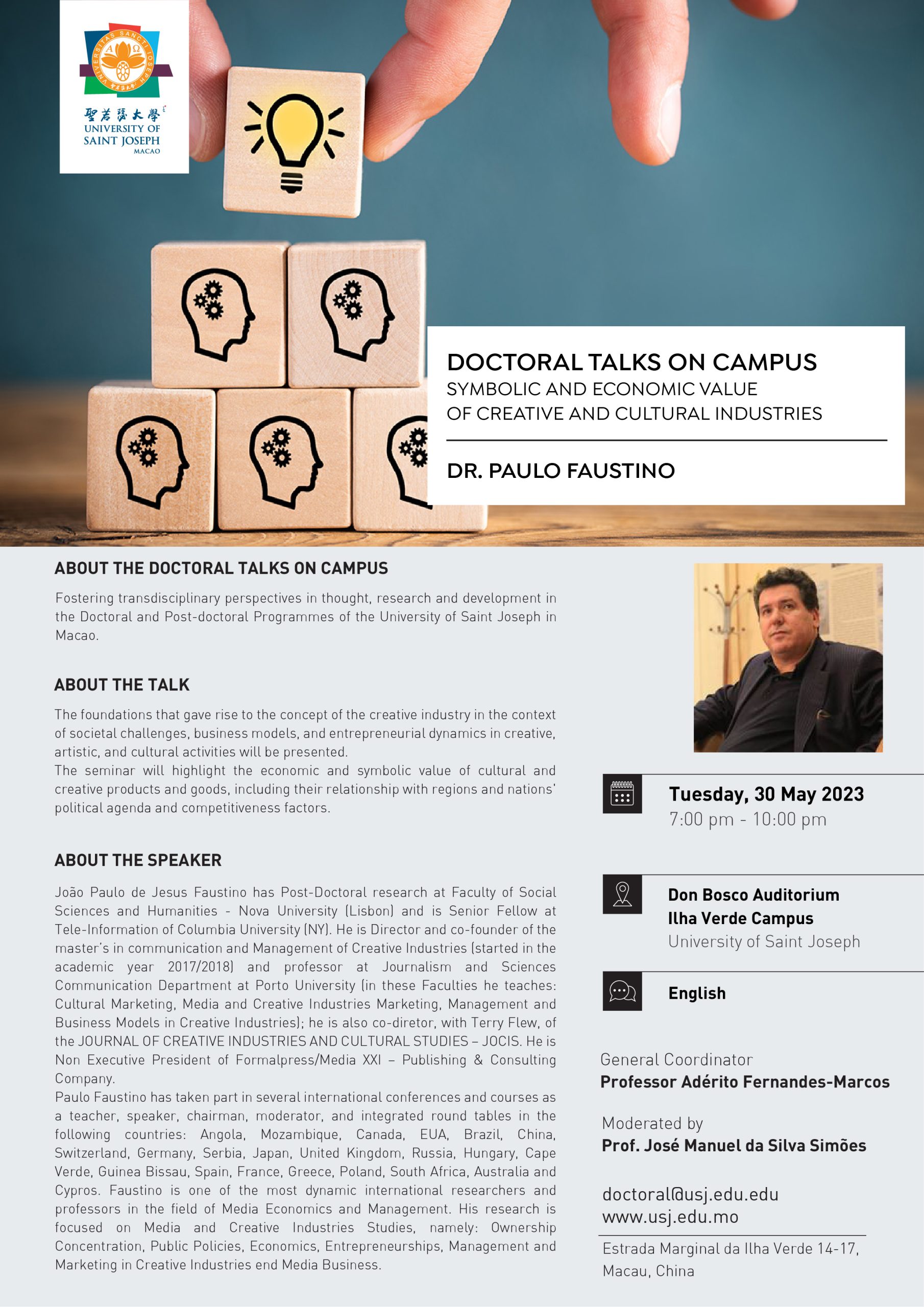 ---