DIVERSAS: Diversity in Portuguese-Chinese Translation | 1st Exhibition of the works of the students of the Bachelor in Portuguese-Chinese Translation Studies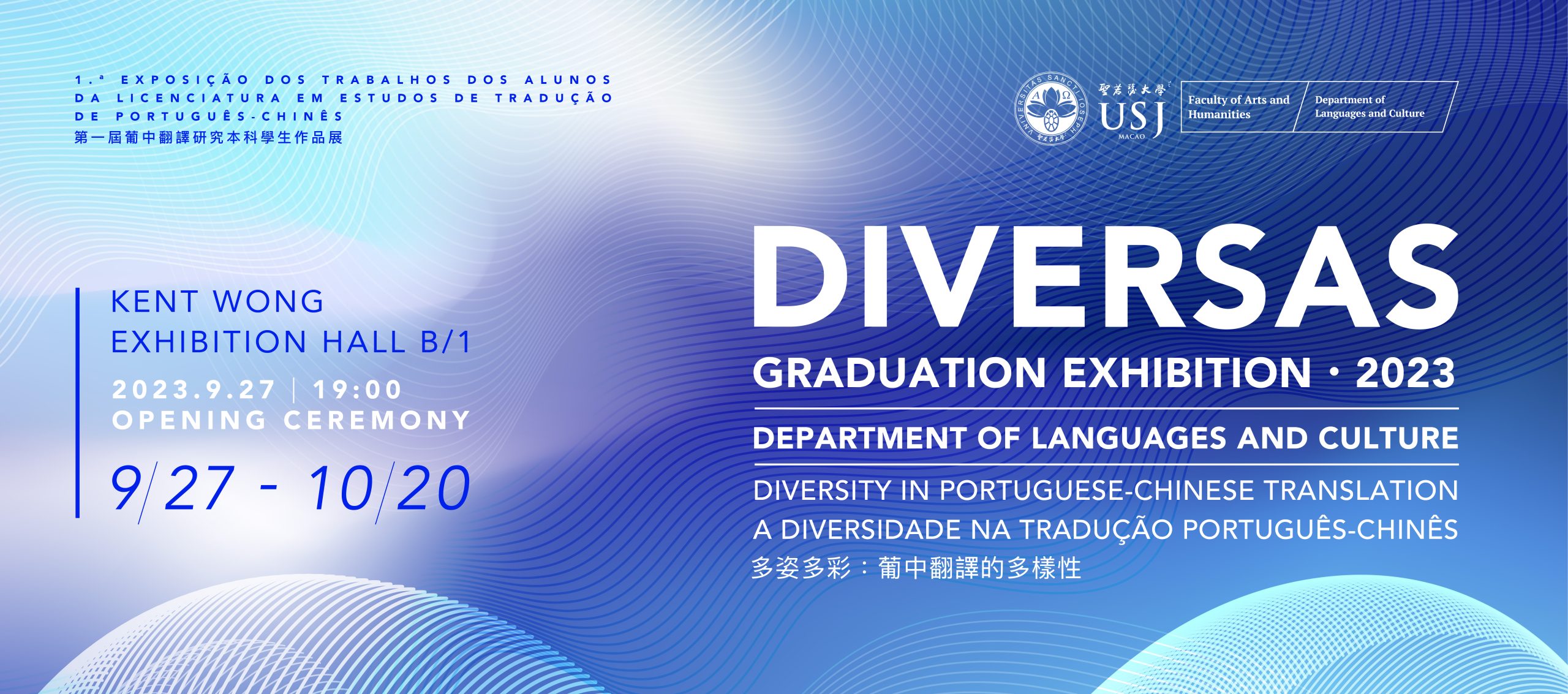 event
DIVERSAS: Diversity in Portuguese-Chinese Translation | 1st Exhibition of the works of the students of the Bachelor in Portuguese-Chinese Translation Studies
The Department of Languages and Culture of USJ/FAH is pleased to present the students' work exhibition of the course in Portuguese-Chinese Translation Studies 2023 taking place from September 27 to October 20 at the Kent Wong Gallery – Basement.
---
---
Organized by the Department of Languages and Culture of the Faculty of Arts and Humanities (FAH) of the University of Saint Joseph (USJ), DIVERSAS showcases 30 culminating projects from the courses of the Bachelor in Portuguese-Chinese Translation Studies for the academic year 2022-2023. The students present their works to the public through a one-month exhibition.
"DIVERSAS – Diversity in Portuguese-Chinese Translation" is a multifaceted display of intercultural and linguistic dialogue between Portuguese and Chinese. This exhibition is the outcome of the students' effort, dedication, and talent, reflecting the diversity of these two very distinct languages, exploring the translation and interpretation of texts, covering various genres, themes, and fields of knowledge. The diversity of the displayed works reflects not only linguistic richness but also the cultural, social, and historical differences between the Sino-Lusophone worlds.
DIVERSAS invites visitors to explore and discover the plurality of meanings and perspectives that arise throughout the process of teaching and learning languages. Each piece in the exhibition is a testimony to the challenge of translating not only words but also contexts, ideas, and feelings between such rich cultures and traditions.
This event is not only an opportunity to know the work and creativity of our students, but also to reflect on the importance of intercultural dialogue in building a more inclusive and harmonious world. The exhibition is an invitation to reflect on the role of translation in bringing worlds closer together, in understanding other cultures, and in building bridges between people and nations.
The FAH invites all interested to visit the exhibition, which will be at the Kent Wong Exhibition Hall B/1 – USJ Green Island Campus until October 20, and to attend the opening session which will take place on September 27, at 7 pm.
Opening Ceremony:
Date & Time: September 27, 2023 (Wednesday), 7 pm
Location: Kent Wong Exhibition Hall B/1 – USJ Green Island Campus
Opening hours:
From September 27 to October 20, 2023
Monday to Friday, from 9 am to 7 pm
Saturday from 10 am to 2 pm
Closed on Sundays and holidays
---
(Português)
DIVERSAS: A diversidade na tradução português-chinês | 1ª Exposição dos trabalhos dos alunos da Licenciatura em Estudos de Tradução de Português-Chinês
Organizada pelo Departamento de Línguas e Cultura da Faculdade de Artes e Humanidades (FAH) da Universidade de São José (USJ), DIVERSAS expõe 30 projetos culminantes de disciplinas da Licenciatura em Estudos de Tradução de Português-Chinês do ano letivo de 2022-2023. Os alunos apresentam os seus trabalhos ao público por meio de uma exposição de um mês.
"DIVERSAS – A Diversidade na Tradução Português-Chinês" é uma exibição multifacetada do diálogo intercultural e linguístico entre o português e o chinês. Esta exposição é o resultado do esforço, dedicação e talento dos alunos, refletindo a diversidade destas duas línguas tão distintas de forma a explorar a tradução e interpretação de textos, abrangendo diversos gêneros, temas e campos do saber. A diversidade dos trabalhos expostos reflete não apenas a riqueza linguística, mas também as diferenças culturais, sociais e históricas entre os mundos sino-lusófonos.
DIVERSAS convida os visitantes a explorarem e descobrirem a pluralidade de significados e perspectivas que surgem ao longo do processo de ensino e aprendizagem das línguas. Cada peça da exposição é um testemunho do desafio que é traduzir não somente palavras, mas também contextos, ideias e sentimentos entre culturas e tradições tão ricas.
Este evento é não só uma oportunidade para conhecer o trabalho e a criatividade dos nossos estudantes, mas também para refletir sobre a importância do diálogo intercultural na construção de um mundo mais inclusivo e harmonioso. A mostra é um convite à reflexão sobre o papel da tradução na aproximação de mundos, na compreensão de outras culturas e na construção de pontes entre pessoas e nações.
A FAH convida todos os interessados a visitar a exposição, que estará na Kent Wong Exhibition Hall B/1 – do Campus USJ Ilha Verde até ao dia 20 de outubro, e a assistir à sessão de abertura que decorrerá no dia 27 de setembro, às 19h.
Cerimónia de abertura:
Date: 27 de setembro de 2023 (quarta-feira), 19h
Local: Kent Wong Exhibition Hall B/1 – Campus USJ Ilha Verde
Horário de funcionamento:
De 27 de setembro a 20 de outubro de 2023
De segunda a sexta, das 9h às 19h
Sábado das 10h às 14h
Fechado aos domingos e feriados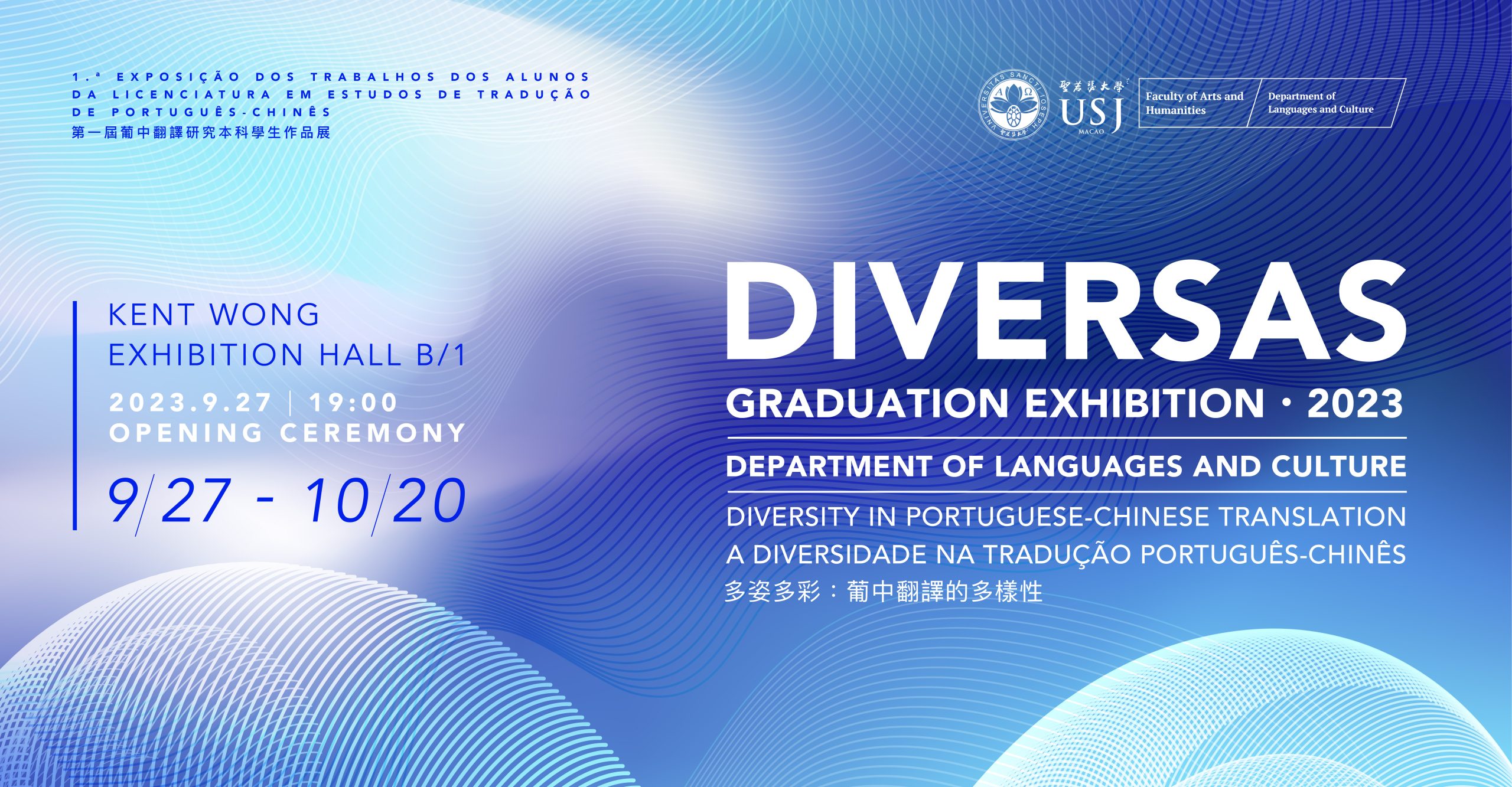 ---