Public Lecture: Thinking of Education: STEM and PATH
events
Public Lecture: Thinking of Education: STEM and PATH
USJ's School of Education is organising a public Lecture titled " Thinking of Education: STEM and PATH"
---
---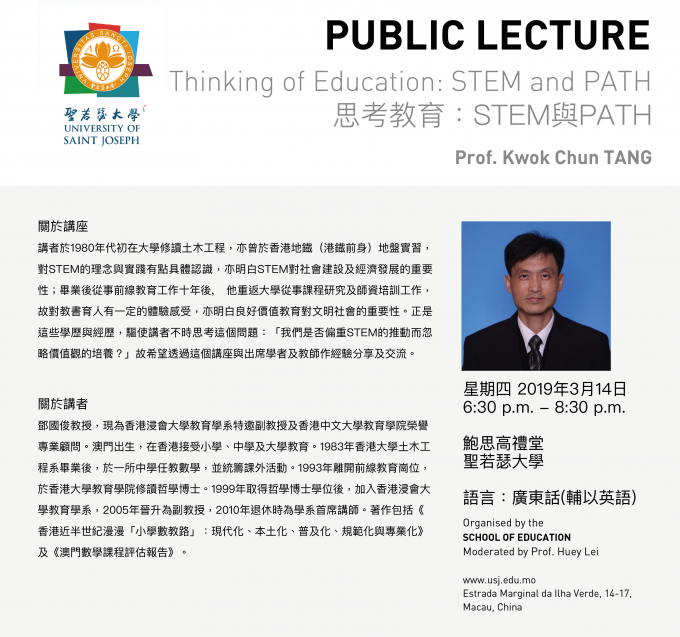 ABOUT THE TALK:
The speaker studied Civil Engineering in the early 1980s, and had worked as an intern in MTR (Mass Transit Railway) construction site. Therefore, he has some close encounters of the theory and practice of STEM. And he also realises the importance of STEM for social and economical development. After ten years of frontline teaching since graduation, he went back to university to teach and conduct research on curriculum issues and teachers' professional development. Through this journey, he gained fruitful experience in educating people, and recognised the importance of values education in modern civilised societies. Because of these professional qualifications and experiences, the speaker often ask himself this question, "Are we stressing too much on STEM education, but neglecting the cultivation of individual's values?'. The speaker will share with the audience, particularly school teachers, his experience in this public lecture.
ABOUT THE SPEAKER:
Prof. Tang Kwok-Chun is an Adjunct Associate Professor of the Department of Education Studies, Hong Kong Baptist University. He is also an Honorary Professional Consultant of the Faculty of Education, Chinese University of Hong Kong. He was born in Macao, and received his primary, secondary and tertiary education in Hong Kong. After graduating from the Department of Civil Engineering, the University of Hong Kong in 1983, he started to teach mathematics in a secondary school and coordinated extracurricular activities. In 1993, he left his frontline teaching post and pursued his PhD study at the Faculty of Education, the University of Hong Kong. After earning his PhD degree in 1999, he joined the Department of Education Studies, Hong Kong Baptist University, and was promoted to Associate Professor in 2005. He was the Principal Lecturer of the Department when retired in 2010. His publications include:《香港近半世紀漫漫「小學數教路」:現代化、本土化、普及化、規範化與專業化》and《澳門數學課程評估報告》.
講座關於:
講者於1980年代初在大學修讀土木工程,亦曾於香港地鐡(港鐡前身)地盤實習,對STEM的理念與實踐有點具體認識,亦明白STEM對社會建設及經濟發展的重要性;畢業後從事前線教育工作十年後,  他重返大學從事課程研究及師資培訓工作,故對教書育人有一定的體驗感受,亦明白良好價值教育對文明社會的重要性。正是這些學歷與經歷,驅使講者不時思考這個問題:「我們是否偏重STEM的推動而忽略價值觀的培養?」故希望透過這個講座與出席學者及教師作經驗分享及交流。
關於講者:
鄧國俊教授,現為香港浸會大學教育學系特邀副教授及香港中文大學教育學院榮譽專業顧問。澳門出生,在香港接受小學、中學及大學教育。1983年香港大學土木工程系畢業後,於一所中學任教數學,並統籌課外活動。1993年離開前線教育崗位,於香港大學教育學院修讀哲學博士。1999年取得哲學博士學位後,加入香港浸會大學教育學系,2005年晉升為副教授,2010年退休時為學系首席講師。著作包括《香港近半世紀漫漫「小學數教路」:現代化、本土化、普及化、規範化與專業化》及《澳門數學課程評估報告》。
---