Public lecture: From Sonic Branding to Interactive Sound Design: New Opportunities
events
Public lecture: From Sonic Branding to Interactive Sound Design: New Opportunities
On 28 May 2019, USJ's FCI is organising a public lecture titled "From Sonic Branding to Interactive Sound Design: New opportunities"
---
---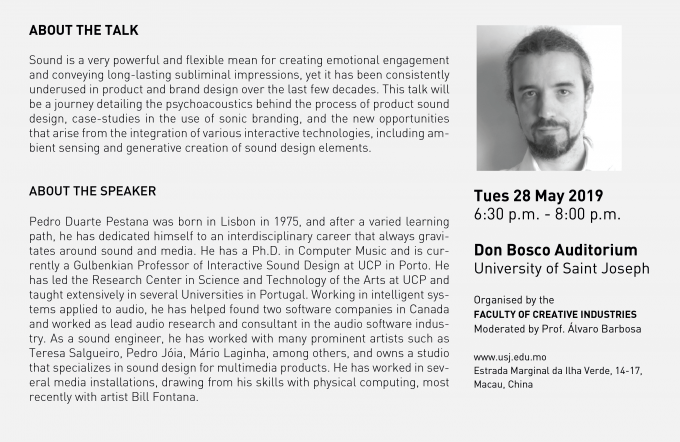 About the talk
Sound is a very powerful and flexible mean for creating emotional engagement and conveying long-lasting subliminal impressions, yet it has been consistently underused in product and brand design over the last few decades. This talk will be a journey detailing the psychoacoustics behind the process of product sound design, case-studies in the use of sonic branding, and the new opportunities that arise from the integration of various interactive technologies, including ambient sensing and generative creation of sound design elements.
About the speaker
Pedro Duarte Pestana was born in Lisbon in 1975, and after a varied learning path, he has dedicated himself to an interdisciplinary career that always gravitates around sound and media. He has a Ph.D. in Computer Music and is currently a Gulbenkian Professor of Interactive Sound Design at UCP in Porto. He has led the Research Center in Science and Technology of the Arts at UCP and taught extensively in several Universities in Portugal. Working in intelligent systems applied to audio, he has helped found two software companies in Canada and worked as lead audio research and consultant in the audio software industry. As a sound engineer, he has worked with many prominent artists such as Teresa Salgueiro, Pedro Jóia, Mário Laginha, among others, and owns a studio that specializes in sound design for multimedia products. He has worked in several media installations, drawing from his skills with physical computing, most recently with artist Bill Fontana.
For pictures, please click here.
---