Book Launch: "Direito em Português: A Língua e a Escrita" (Law in Portuguese: Language and Writing)
events
Book Launch: "Direito em Português: A Língua e a Escrita" (Law in Portuguese: Language and Writing)
On 7 May 2019, USJ's Faculty of Humanities is organising a book launch for "Direito em Português: A Língua e a Escrita" by Margarida Conde at the Don Bosco Auditorium.
---
---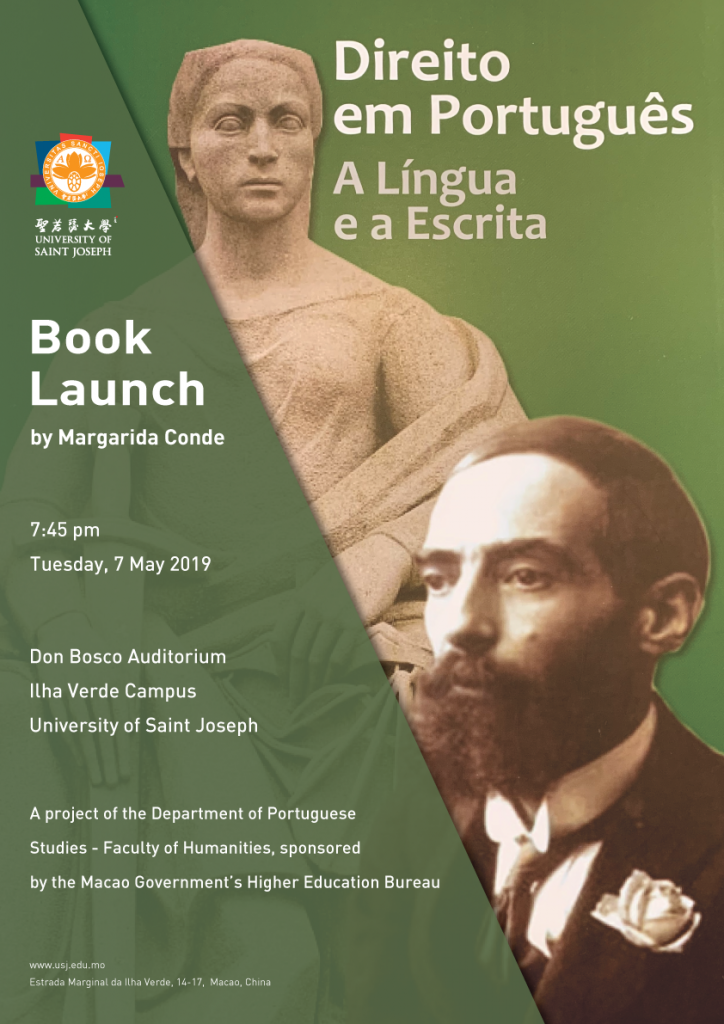 About the book
The handbook Direito em Português: A Língua e a Escrita is a project of the Department of Portuguese Studies – Faculty of Humanities, sponsored by the Macao Government's Higher Education Bureau (DSES). One of the strategic goals of the Department of Portuguese Studies is contributing to the development of language skills producing teaching materials in specific areas of Portuguese. This handbook is intended for native Chinese speakers Law students and it will also enable lawyers and other legal practitioners working with texts of a legal or judicial nature to boost their knowledge of Portuguese and thus improve their performance. The handbook stands out for building its didactic proposals based on authentic documents always related to Macao's experience.
About the author
The author, Margarida Conde, is a senior instructor at the University of Saint Joseph (as part-time since 2011; as full-time since 2016). She holds a degree in Philosophy and Humanities from the Universidade Católica Portuguesa and a Master's Degree in Portuguese Language and Culture, in Linguistic Studies, by the University of Macau. She has taught Portuguese in several institutions of Macao, namely in the Centro de Formação dos Serviços de Administração e Função Pública; in the Centro de Difusão de Línguas da Direção dos Serviços de Educação e Juventude; in Luso-Chinese Schools, and also as a collaborator in the University of Macau and Instituto Português no Oriente (IPOR). She is also the co-author of the book Português Administrativo,  used in the Macao public services.
Programme
| | |
| --- | --- |
| 6:30pm | Welcome address by USJ Rector Prof. Fr. Peter Stilwell |
| 6:40pm | Public Lecture by Prof. Manuel Fontaine Campos, Dean of the Católica Porto Law School and Vice-President of Universidade Católica Portuguesa Porto, moderated by the Dean of the School of Business and Law, Prof. Jenny Phillips |
| 7:45pm | Introduction of the Book Launch by the Dean of the Faculty of Humanities, Prof. Alan Baxter |
| 7:50pm | Words of appreciation by the author of the book, Margarida Conde |
| 8:15pm | Networking and Refreshments |
---