講座|Public Lecture: 抗日時期澳門教育的光輝一頁 A Proud Chapter in Macau Education During the War of Resistance
events
講座|Public Lecture: 抗日時期澳門教育的光輝一頁 A Proud Chapter in Macau Education During the War of Resistance
講座|Public Lecture: 抗日時期澳門教育的光輝一頁 A Proud Chapter in Macau Education During the War of Resistance by FHM on 21st March 2018
---
---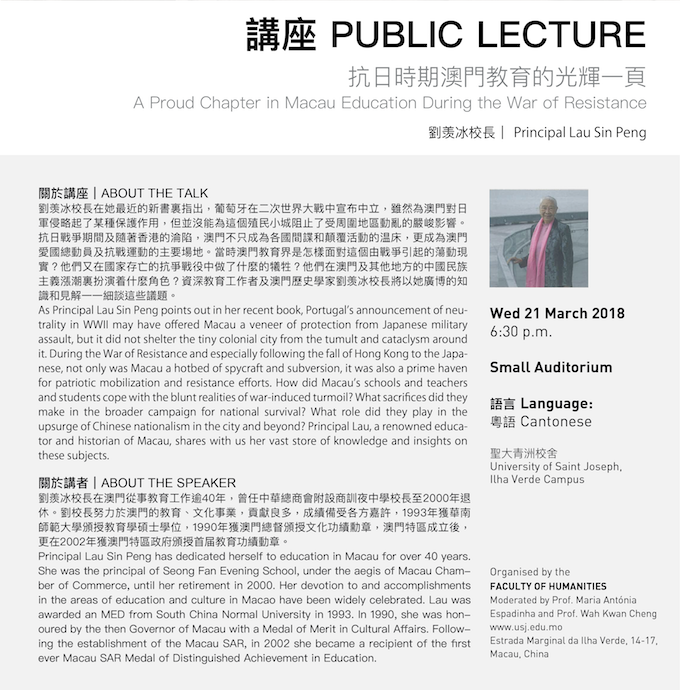 關於講座|About the Talk
劉羡冰校長在她最近的新書裏指出,葡萄牙在二次世界大戰中宣布中立,雖然為澳門對日軍侵略起了某種保護作用,但並沒能為這個殖民小城阻止了受周圍地區動亂的嚴峻影響。抗日戰爭期間及隨著香港的淪陷,澳門不只成為各國間諜和顛覆活動的温床,更成為澳門愛國總動員及抗戰運動的主要場地。當時澳門教育界是怎樣面對這個由戰爭引起的蕩動現實?他們又在國家存亡的抗爭戰役中做了什麼的犧牲?他們在澳門及其他地方的中國民族主義漲潮裏扮演着什麼角色?資深教育工作者及澳門歷史學家劉羡冰校長將以她廣博的知識和見解一一細談這些議題。
As Principal Lau Sin Peng points out in her recent book, Portugal's announcement of neutrality in WWII may have offered Macau a veneer of protection from Japanese military assault, but it did not shelter the tiny colonial city from the tumult and cataclysm around it. During the War of Resistance and especially following the fall of Hong Kong to the Japanese, not only was Macau a hotbed of spycraft and subversion, it was also a prime haven for patriotic mobilization and resistance efforts. How did Macau's schools and teachers and students cope with the blunt realities of war-induced turmoil? What sacrifices did they make in the broader campaign for national survival? What role did they play in the upsurge of Chinese nationalism in the city and beyond? Principal Lau, a renowned educator and historian of Macau, shares with us her vast store of knowledge and insights on these subjects.
關於講者|About the Speaker
劉羨冰校長在澳門從事教育工作逾40年,曾任中華總商會附設商訓夜中學校長至2000年退休。劉校長努力於澳門的教育、文化事業,貢獻良多,成績備受各方嘉許,1993年獲華南師範大學頒授教育學碩士學位,1990年獲澳門總督頒授文化功績勳章,澳門特區成立後,更在2002年獲澳門特區政府頒授首届教育功績動章。
Principal Lau Sin Peng has dedicated herself to education in Macau for over 40 years. She was the principal of Seong Fan Evening School, under the aegis of Macau Chamber of Commerce, until her retirement in 2000. Her devotion to and accomplishments in the areas of education and culture in Macao have been widely celebrated. Lau was awarded an MED from South China Normal University in 1993. In 1990, she was honoured by the then Governor of Macau with a Medal of Merit in Cultural Affairs. Following the establishment of the Macau SAR, in 2002 she became a recipient of the first ever Macau SAR Medal of Distinguished Achievement in Education.
---