---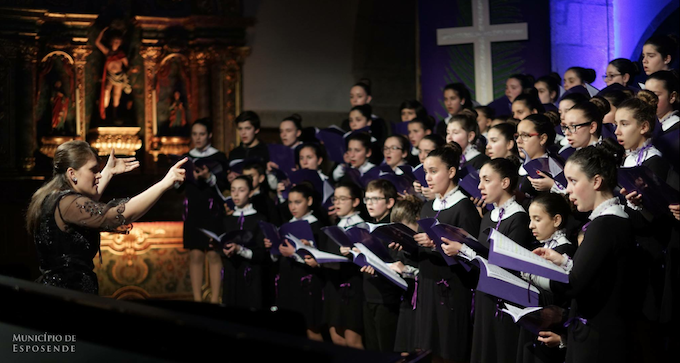 Description
USJ's Master of Choral Conducting (MCC) is an internationally recognized educational offer that addresses the growing demand on specialized conductors for the emergent choral movement, with special emphasis in Asia. Through an intensive summer program and one year supervised dissertation development, the MCC student will undertake training and research trough diverse perspectives and approaches on historical and contemporary western choral music, in a program format that is designed to be compatible with their current professional engagements.
The MCC is set on 2 main periods. The first one includes the curricular program and the second comprehends the development of a supervised master dissertation.
The curricular program will consist of a group of practical subjects like Choir Conducting, Voice, Research Design and Methodology or Leadership and a group of complementary theoretical-practical subjects like Analysis, Choir Music History or Choral Literature. On the other hand, the Master Dissertation period, subsequent to the first one, will be held through continuing supervision by Expert Scholars in the topics of research selected by each student.
The Faculty Members are International acknowledged academics and experienced musicians with backgrounds that range conducting, singing, music analysis and composition, music cognition and psychoacoustics or music history.
Typical Duration
MCC is designed for a period of 2 full Academic years:
Intensive periods with Curricular Modules
1 full year of Supervision.
The Curricular periods are realized in blocks of intensive Weeks with the Credit Workload per modules:
3 Credits = 12 Sessions (3h)
2 Credits = 9 Sessions (3h)
Additional hours relative to 3 Credits Modules will be fulfilled with complementary artistic performances associated with the program.
Recommended prior knowledge
Students with bachelor's degree in Music will have priority for admission.
Teaching Medium
English
Total number of credits for graduation
36
Campus
Ilha Verde Campus
Programme's Government Approval (In Chinese and Portuguese only) (Click here)
Calendar
September to July
---
Intensive program, designed for active specialized professionals
Renowned Faculty
Emphasis on practical approach
Multicultural repertoire (East-West, Past-Present)
Worldwide recognized Master Diploma
Common language - English
---
USJ's MCC, one of the very few intensive Choral Conducting Master Programs in Asia, aims to attract students from different cultures and different experiences. The technical, artistic and social demands on a conductor are heavy and they require a set of expertise and abilities derived from correct and truthful approach to the score, understanding the music needs, carefully planning the activities for public appearances and, of course, adopting the clearest techniques. Through a demanding, intensive curricular program with a "cut to the chase" approach, the student will be exceptionally well positioned to answer the growing demand of skilled and well trained conductors, prepared musicians and responsible musical leaders.
---
Choir conductor
Conductor
Vocal Coach
Music Lecturer
Music Researcher
---
Study plan & description of modules
Please click on any specific module to see its description.
---
Modules
Year 1 Master