Mandarin for Foreigners – Basic I
外籍人士普通話課程 第一級
---
Lifelong Learning Office (LLO) is offering a course to introduce non-Chinese speakers to Mandarin (Putonghua), the official and the most commonly spoken language in China.
The class will focus on dialogues using conversational Chinese from everyday situations. Learners will be able to convey simple ideas and communicate using vocabulary, as well as to recognise some simple Chinese characters.
Key Features:
Introduction to the Chinese Language
Phonetics – Four basic tones and rules of pinyin
Phonetics – Initials and Finals
Learning Outcomes:
Students are able to capture the basic theories, knowledge, and skills of Mandarin
Express simple concepts in Mandarin
Details:
| | |
| --- | --- |
| Instructor: | Lecturer from the USJ Faculty of Arts and Humanities |
| Duration: | 30 Hours (15 Sessions) |
| Date: | 02 March 2021 – 22 April 2021 |
| Time: | Tue, Thur 19:00 – 21:00 |
| Location: | University of Saint Joseph – Nape Campus |
| Language: | Mandarin (with English) |
| Delivery of Mode: | Face-to-face Lecture |
| Tuition Fee: | MOP2,000 |
| Targeted Participants: | Interested parties (Non-Chinese Speakers) |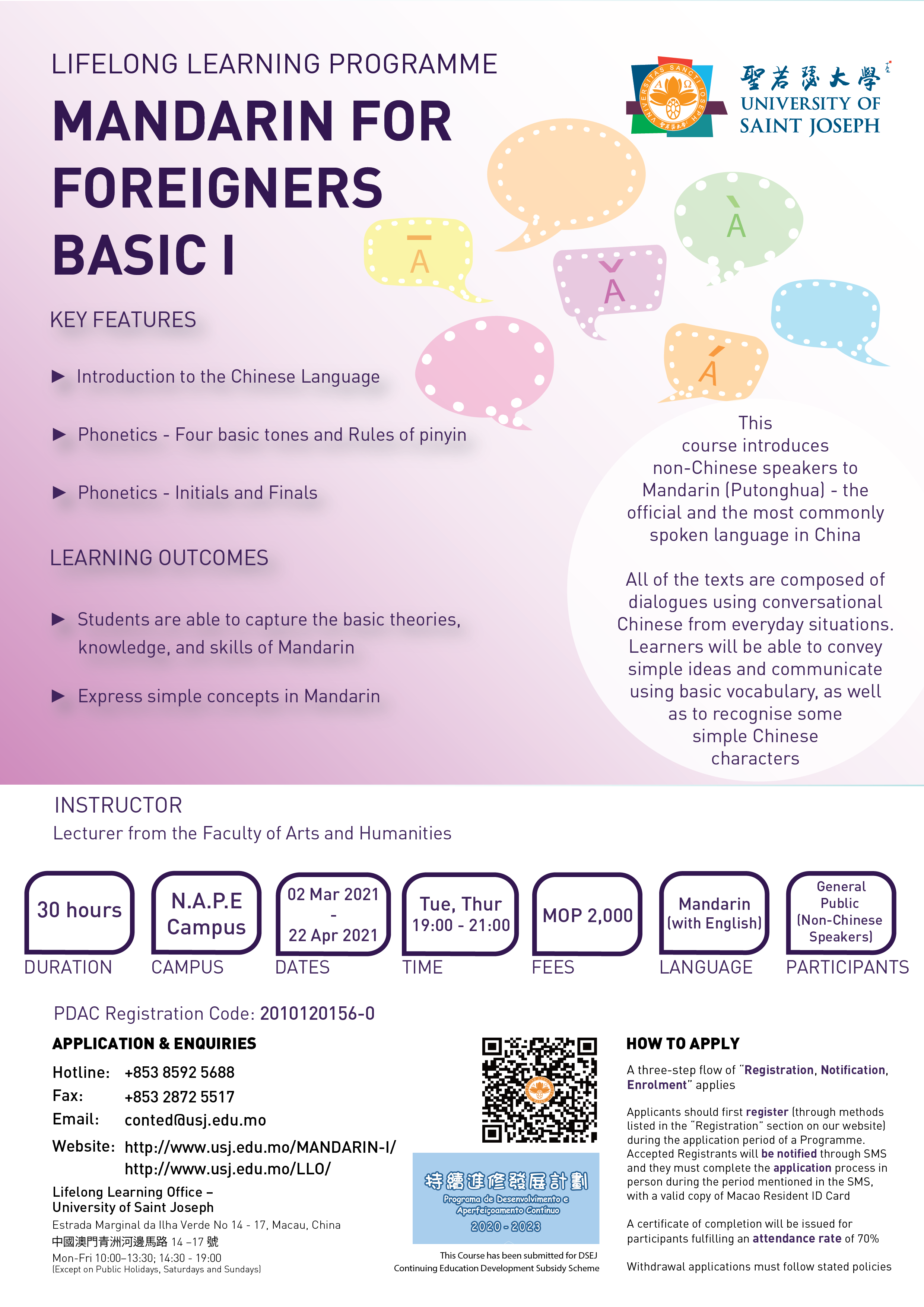 Note: This course has been submitted for D.S.E.D.J. 2020-2023 Continuing Education Development Subsidy Scheme.
---
HOW TO APPLY
A three-step flow of "Registration, Notification, Enrolment" applies.
Applicants should first register (through methods listed in the "Registration" section on our website) during the application period of a Programme. Accepted Registrants will be notified through SMS and they must complete the application process in person during the period mentioned in the SMS, with a valid copy of Macao Resident ID Card.
A certificate of completion will be issued for participants fulfilling an attendance rate of 70%.
Withdrawal applications must follow stated policies.
Remark: Programmes may be cancelled due to insufficient registration.