6 February 2015 Investment Trend in 2015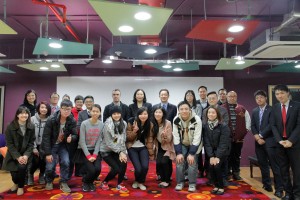 On 6 February 2015, invited by the Alumni Association of the University of Saint Joseph, the Bank of China Macau Branch organized a seminar on "Investment Trend in 2015" at USJ Speakers' Hall. The event began with some refreshments and a warm welcome of the BOC team by USJ's  Vice-Rector, Prof. Maria Espadinha, Pro-Rector, Prof. Vincent Yang, and Administrator, Dr Susana Mieiro.  Mr. Joe Hui, BOC's Director of Private Banking and Mr. Hui Zhou Hong shared their expertise on analysing and forecasting the development of their bank in the global economy in 2015. They also shared their advice on investment approach in the foreign exchange market. USJ's alumni and students actively participated and asked a lot of questions. The seminar ended with an exciting lucky draw hosted by Prof Vincent Yang, Pro-Rector of USJ and Ms. Chen Fen, Director of Business Development Department of Bank of China Macau Branch.
USJ students expressed that the seminar has deepened their understanding of the global economy through applying theoretical knowledge to what's happening in the real world.